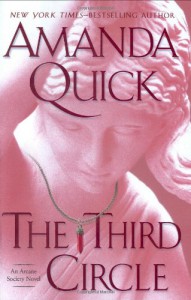 Warning: I studied comparative literature in college, and this review... well, I don't know if it's the standard romance novel review. Maybe it's a review for people who don't like romances, or for those who find them funny, or for me, because I love to hear the sound of my own voice.

You know, it's really funny to read romance novels as a former lit major. Sometimes they make me crazy, so I'll toss them aside and pick up something interesting. Sometimes I start thinking that Ms. Krentz just really likes making up absurd names for her characters (Leona and Thaddeus? Hot.) I tell my mom, who was the person who recommended the Arcane Society novels, about my findings in cross-analyzing the books, because I can't just shut up and read something.

However, there are several recurring themes in Jayne Ann Krentz/Amanda Quick's romances, which I note and track in case there is ever any deviation from the pattern. First, there's the serious and dour hero, who is highly focused, big with the brooding, and, inevitably, tall, built, and handsome beyond belief. He's probably a parasensitive, bonus points if he's a "hunter" or similar personality. In the Arcane books, his surname is usually Jones, or he's related to a Jones. However, in her non-Arcane books, all other characteristics apply. He is extremely possessive, and throughout the novel, he has a lot of "instinctive" and "masculine" urges to possess His Woman. He's also rich, because what's the point of having a romance novel with a man who doesn't have the big bucks to make the happy ending?

Second, there's the heroine, who is an exceptionally independent woman. In the historical romances, she has gone into trade or similar in order to make her living without a man's support. Bonus points if she pretends to be a widow. In either, she is almost always a virgin. Also, she probably has a Tragic Past she wishes to hide from the hero, lest he find out how badly her reputation was damaged and not like her anymore.

Third, this sex scene occurs. It has popped up in every Amanda Quick novel I've read, and it sends me into peals of laughter every time.

In The Third Circle, Leona's Tragic Past is one she relates without too much hand-wringing. She sees it as embarrassing, but when she feels the need to relate the circumstances, she does so without protesting that it has all somehow impugned her honor. She gets props for this, because I do so love a forthright heroine, and they are shockingly hard to come across at times.

I enjoyed how together Leona is as a heroine. She has some spirit, and not necessarily for the sake of being spirited. Her dedication to excessive optimism in the case of adversity is quite funny, and she wasn't particularly melodramatic. It was great to read a romance novel lacking in the "you don't really love me blah blah blah" nonsense that often passes for conflict. Instead, there are evil psychic sorcerers. That's much more entertaining.

Further, the hero and heroine took turns rescuing each other throughout this novel, both through either ingenuity or talent. It's also been fun to watch the Jayne Ann Krentz (modern) books built from the Amanda Quick (regency/Victorian) end. Krentz has structured the Arcane Society in a particular way for the modern books, and with each Amanda Quick, she shows the setup that eventually evolves into the "modern" Arcane Society. It's a fascinating bit of world building, and one that's appreciated from a thematic end.

Finally, I did think I was also going to get another hilarious "ravished in carriage" scene at one point, but the hero just checked out the heroine's petticoats, then did her on a desk later. Perfectly acceptable alternative.